RICS PROFESSIONAL VALUATIONS
FOR SOLICITORS, INSOLVENCY PRACTITIONERS, COURT OF PROTECTION DEPUTIES
As a Regulated RICS Valuer we can offer your clients a full property service under one roof. Our RICS Red Book Valuations meet HMRC requirements, are competitively priced and with no third parties to rely on we can act very quickly with a report turnaround within 48 hours if required. As we are also actively selling properties across the country, we are confident that our valuations are a real reflection of the current property market, offering not only an open market value but also a forced sale value that we can stand behind.
Click below for a professional valuation request or call 020 8799 3880.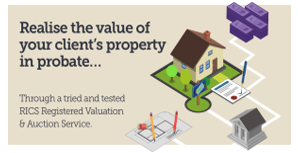 FOR INDIVIDUALS GOING THROUGH PROBATE
As our property services are all under one roof we can "hand hold" you through the full process of releasing the capital of your family's probate property by initially providing you with the required RICS Red Book Valuation that we guarantee will meet the legal requirements for any step of your journey through what can be a difficult time. We can then offer you a sale via public auction, with a choice of 7 dates per annum. Auctions serve the probate market very well as not only are probate properties prime auction lots, attracting a great deal of attention and therefore good prices, but the format of an open sale enables all members of the family to feel involved in the process and to witness the price achieved on the day with a completion 28 days later, rather than the to-ing and fro-ing that can often occur in a private sale, drawing out the process for far longer than necessary during what can already be a stressful time.
Click below for a professional valuation request or call 020 8799 3880.