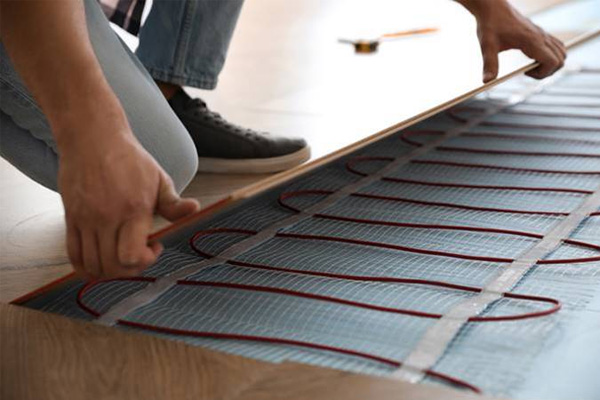 At this time of year, those kitchen and bathroom tiles are starting to feel a bit chilly and we all dream of underfloor heating and that fabulous warm feeling you get beneath your feet. And, with the rising popularity of heat pumps, underfloor heating seems to be everywhere at the moment. So, does that mean it's now the most modern and cost-effective way to heat our homes?
Underfloor heating is no fad, it's been around since Roman times. There are two main types - either water-based or electric. Both systems are highly space efficient, doing away with the need for conventional, wall-hung radiators and replacing them with a system that is housed underneath the floor. And, because they are not trying to transmit heat from just one or two sources (radiators), their heat is far more evenly distributed, enabling them to run at much lower temperatures than a conventional system. They work best when they are used under floor tiles, but can also be placed beneath wood or carpet, provided neither is too thick to allow the heat to pass through. It is recommended that carpet underlay should be no thicker than 1.5 tog and timber, or engineered flooring, should be under 22mm thick. Both systems claim to reduce humidity, which, in turn, reduces the presence of house mites. There is, though, often considerable disruption involved during installation, as you first need to rip out any existing flooring.
So which system is best for you and how much will it cost?
The water-based system is by far the most efficient and can provide energy savings of around 15% when compared to a conventional radiator-based system. In addition, while you are installing it, you will have to insert insulation between the floors, which will also improve the energy efficiency of the rest of the house. They are the only option if you are installing a heat pump, but will also work with an existing conventional boiler, although it will need separate controls as it takes longer to heat up and cool down than conventional radiators. One disadvantage is that its various component parts take up more space than the electric version, so they are not suitable for every type of installation but can, if needed, be fitted between the joists of a suspended wooden floor.
If you have an existing concrete floor, however, you will need to raise the floor levels to accommodate the pipes. This can cause problems with things like door and cupboard heights and is when installers often recommend you use the slimmer electrical version.
According to Checkatrade, installing water-based underfloor heating in an existing home costs £135 to £185 per m2. Electric underfloor heating is considerably cheaper at between £60 to £85 per m2, but as it costs around 3 times more to run, it is likely to increase your energy bill rather than lower it. The electric version is particularly useful in smaller areas, such as compact kitchens and bathrooms. As an added bonus, it is also very quick to install - all the heating elements are integrated into a thin mat, so there is no piping required. You simply roll it out across the floor and then cover it with either tiles or a wooden floor. It can easily be handled by a competent DIYer and then connected to the mains by a qualified electrician.
As you are reading this, you may well be one of the many looking for your next project. If so, why not take a look at some of the fabulous properties we have coming up in our next auction at Phillip Arnold Auctions.