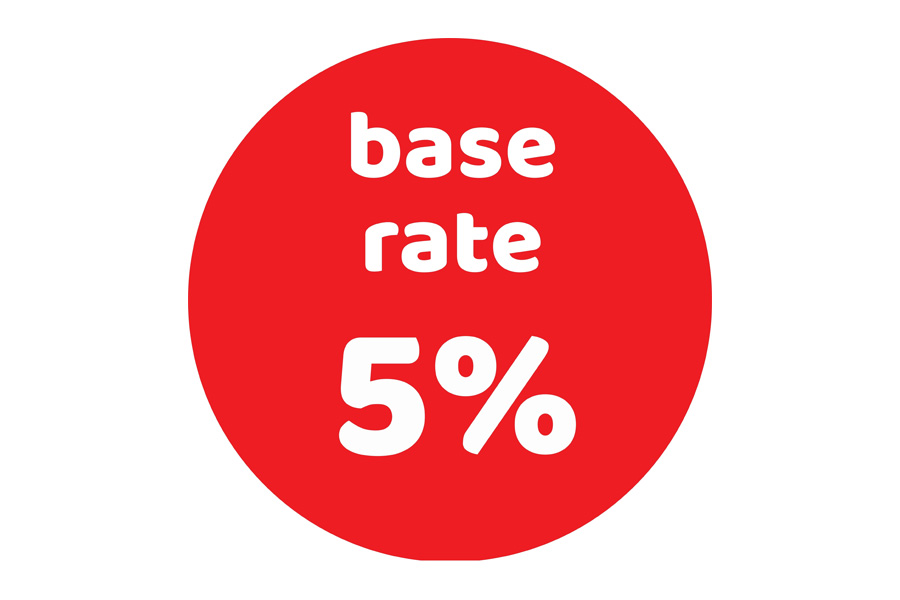 With interest rates all over the news at the moment, we thought our customers at Phillip Arnold Auctions might appreciate a market update.
Last month, it seemed the housing market had steadied and interest rates were falling. The latest inflation figures, however, were unexpectedly high and there is now speculation they will remain that way for considerably longer than was previously thought. In response, lenders have already been raising their mortgage rates. As the inflation figures were only released in the latter part of May (and again in June), the housing market's reaction has not yet shown in the various indices. And, with the majority of homeowners on fixed-rate deals, it could take a while before its effects fully filter through.
Even the most recent data – Rightmove's – is largely based on activity that took place before the inflation figures were released. According to them, May was a relatively good month - asking prices jumped 1.8% - nearly double the average rise for this time of year. Buyer demand was at healthy levels, too - down very slightly for top-end properties (-1%) but up for both second-stepper homes (+3%) and first-time buyer properties (+6%) when compared to the same period in pre-pandemic 2019. The average discount was a relatively small 3.1%.
Halifax's index's annual growth figures, in contrast, fell into negative territory - down 1% - generating quite a few headlines. It should be noted, though, that the completed sales figures it uses to compile its data are even further behind than Rightmove's and so it is difficult to read too much into them. Nor did the papers mention that there had been no movement (0.0%), either up or down, in their house prices from the pervious month.
Nationwide's figures come out at roughly the same time as Halifax's and their prices were also relatively flat compared to the previous month. Annually, their data shows house prices had fallen by 3.4% but that is from the artificial highs reached during the pandemic and the race for space. The only thing you really can surmise from all the differing indices is that we are going through a period of flux. Confidence has risen and fallen on an almost monthly basis as forecasts for inflation, the economy and the housing market have been constantly revised. The key drivers of inflation, and the uncertainty, are the war in Ukraine and the lingering effects of Covid, both of which are temporary in nature. The big question is, when will those inflationary pressures begin to ease? It only needs for inflation to come down for a couple of months and confidence will quickly rebound but if inflation appears to be getting too entrenched, it could have the opposite effect. In the meantime, rising mortgage costs are likely to dampen demand (and prices).
Robert Gardner, Nationwide's Chief Economist says:
"A relatively soft landing remains the most likely outcome since labour market conditions remain solid and household balance sheets appear in relatively good shape..
"While activity is likely to remain subdued in the near term, healthy rates of nominal income growth, together with modestly lower house prices, should help to improve housing affordability over time, especially if mortgage rates moderate once the Bank Rate peaks."
HOUSE PRICES AND STATISTICS
With the ever-changing outlook, there is even more variation between the indices than usual, especially between some of the older figures (Land Registry - March) and the newer ones (Rightmove - May). It won't be until next month that we get any indication of how that market has reacted to the latest inflation data.
Nationwide: May: Avge. price £260,736. Monthly change -0.1%. Annual change -3.4%
Halifax: May. Avge. price £286,532. Monthly change 0.0%. Annual change -1.0%
Land Registry: Mar: Avge. price £285,009. Monthly change -1.2%. Annual change +4.1%
Zoopla: Apr: Avge. price £260,700. Annual change +1.9%
Rightmove: May: Avge. price £372,894. Monthly change +1.8%. Annual change +1.5% (asking prices on Rightmove).
If you want to know where you can find some of the best value properties around, all you have to do is take a look at the fantastic properties we at Phillip Arnold Auctions have coming up in our next auction.