Probate and Auctions
29/06/2021
A 'Question and Answer' session with Phillip Arnold Auctions' Director of Operations, Julie Gooding and Property Journalist, Simon Cairnes.


Simon: Auctions and probate property is not something many of us know much about. Tell me, how does it all work?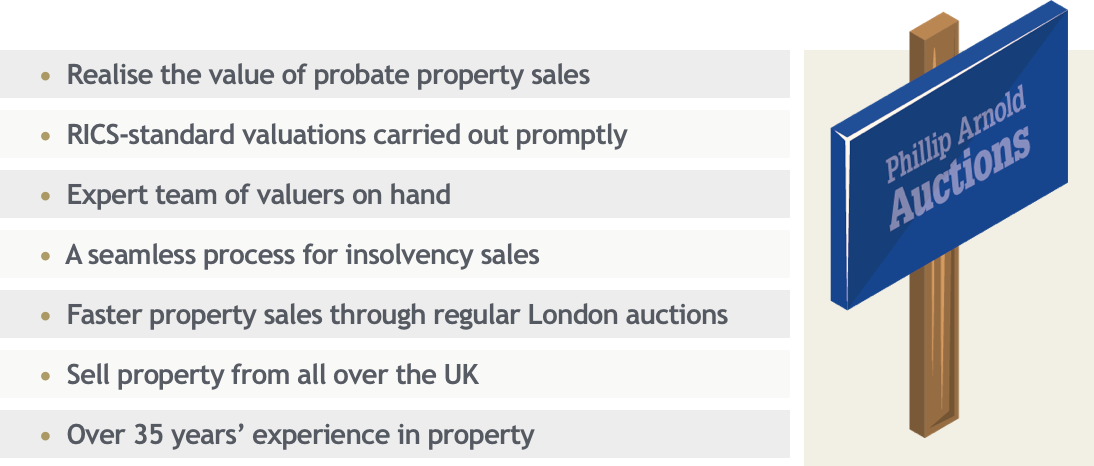 Julie: When someone passes away, before their will can be settled, their property must be formally valued and the results reported to HMRC. The majority of the probate properties we look at have not been updated for quite a few years. Sometimes they need major work or a full refurbishment and modernisation throughout, or a lease extension. These are not the kinds of places that sell easily via a traditional estate agent. They are, however, highly sought after at auction and we are able to achieve excellent prices for them.
Simon: So, why do they come to you for a valuation?
Julie: Phillip Arnold Auctions is one of the few (if only) auction houses that have RICS Registered Valuer status and can carry out HMRC approved probate valuations. After meeting with Phil, people then realise we are also probably the best ones to sell the property, too!
Simon: What is it that makes you better at selling probate properties than a traditional estate agent?
Julie: If it's a straightforward, modern or refurbished house or flat then a traditional agent is definitely the best place to go to achieve the best price but if, as I mentioned earlier, there are any issues or it needs extensive work then it is much better to place the property directly into auction where we start with a low price and work upwards. If an agent does decide to put a problem property on the market it is often at a high(ish) price which can get the beneficiaries "used" to an unlikely level for the sale.   Prospective buyers, often families when selling by Private Treaty, may find the works involved too extensive and be put off.  Offers come in and then are withdrawn and a few months, or even years, down the line the property is still on the market and by then the price has become 'tainted'. The beneficiaries' expectations have been raised and it can cause difficulties.  Auction buyers, on the other hand, are actively looking for properties that offer them a chance to add value. The guide price starts low, to tempt them in. The better the opportunity, the greater the competition and the higher the price will go. 9 times out of 10, we achieve a higher price than the probate valuation which also tends to go down very well with the beneficiaries.  As it is an open sale they can witness the sale first hand too so they feel a part of the process.
Simon: Could you give me some examples?
Julie: Yes, sure. Here's a couple of very recent ones from our auction on 26th May. We sold a flat in Ealing for £270,000 that had a guide price of £130,000. There was also a place in Tottenham that went for £619,000 with a guide price of £350,000.
Simon: Wow, that's really impressive. So how long does it all take?
Julie: If you sell with us, the process is far, far faster than it is via private treaty.  You have to put down a non-refundable 10% deposit on the day and produce the balance within 28 days. It is what we call a guaranteed sale – no one can come back and make a different offer once the gavel falls and they are tied into the agreement immediately.  In 28 days the beneficiaries will get their money.
Simon: Are the buyers mostly property professionals?
Julie: They used to be almost exclusively so. Nowadays, with the advent of programmes like 'Homes Under the Hammer' we're seeing more and more regular and even first-time buyers turning up. Mind you, we have been told by clients that as a smaller auction house, we are very approachable so we tend to attract a wider audience than some of the more larger auction houses that can come across as quite intimidating.
Simon: So, how exactly do people come to you?
Julie: Probate properties mostly come directly from the Executors or the probate department of larger legal companies. We also get a lot of work from the Government Legal Department which deals with estates that have no wills (intestate).
Simon: That's a great endorsement, getting work from the government.
Julie: Yes, it's something we're very proud of.
Simon: And finally, how is Covid affecting things?
Julie: Well, we can no longer meet people in the flesh but we have managed to create the same atmosphere virtually by ensuring that our auctions are still live streamed on our website.  We have received some fabulous compliments with people saying that they have really enjoyed the experience so we believe we are still making them feel very much involved on the day.
Simon: Thanks, that was very informative.
Julie: A pleasure.