Phillip Arnold's Reflection on Lockdown
22/04/2020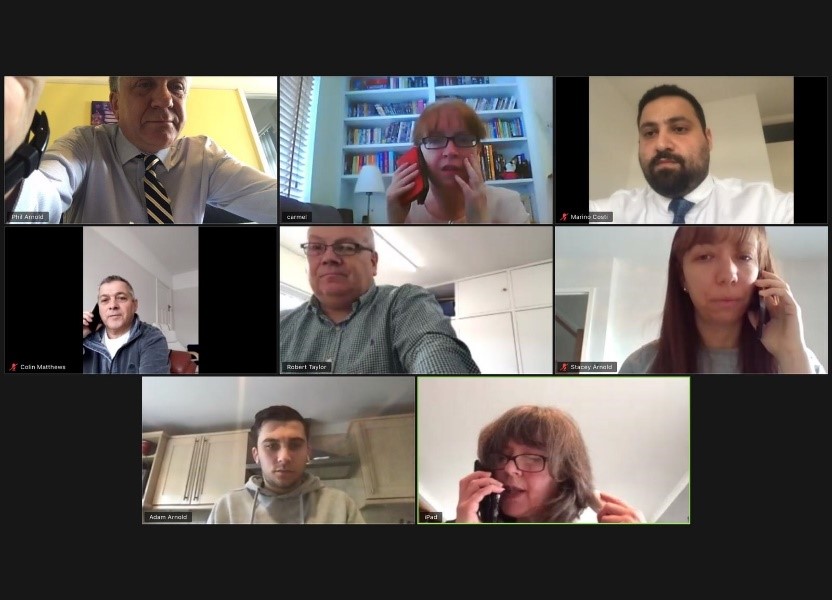 I have spent 40 years in property and have seen and been through many changes. There have been boom markets and recessions, but never have I experienced something like this. 2020 started with the "Boris bounce" and I, like many, was excited – we were securing new contracts and the phones were ringing again. My team were full of optimism and the word Brexit had not been mentioned for a good few weeks. It looked like we had seen off another poor period in the market and were now ready to expand.......
And then within a week we were working from home, contracts and clients were delayed, and we had to quickly learn how to organise and run our first ever remote bidding only auction from our living rooms at home, and viewings/valuations became something we could only think about.
I thought I had seen it all in my 40 years, but obviously not. However, I possess an irrepressible passion for what I do, as noted in our strapline, and I know that by thinking outside the box then we will find a way to navigate the future of the business. That part is not different. In 2009 we were close to giving up, along with many other firms, but we sat in the office brainstorming ideas on post it notes and found a way to change the way we operated. We have now just completed our 13th year in business, so I know we can do it.
So how does a firm of property auctioneers and RICS registered Valuers plan ahead, with lending down and no visits on properties possible? I think we are fortunate that we are a small independent firm and can rely on our own decisions and therefore make changes quickly. An easy option would be to go down the eBay style online auction route, but we've held off on that in the past as it is not our business model and our results from our highly unusual 3rd April auction showed that we are good at what we do. In my opinion on-line is a short-term option and I am not convinced it is the best route for our clients. I think at times like this it is important to know what you are good at and stick to it and traditional auctions is our forte . We just need to find a way to work that model into the new restrictions, and that's what we are doing at Phillip Arnold Auctions. Land sites and ground rents are good for auction right now as viewing is not required and everything a prospective buyer needs is contained within the legal pack and the council's planning portal. Comprehensive desk top valuations can still be conducted to help move things on for probate valuations and asset management reviews. The Government guidelines have forced us to cancel our May sale, but we have set our date for our July auction and are having meaningful conversations with our clients to work out the future together.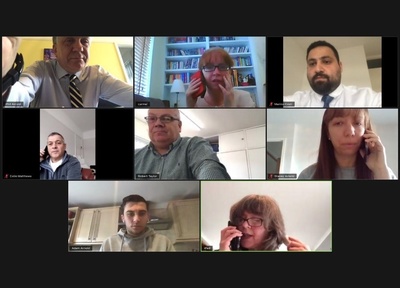 OUR VERY FIRST REMOTE BIDDING ONLY AUCTION – 3RD APRIL 2020
We beat the financial crisis that started in 2008 and therefore I am confident that we will beat this. I remember selling a property in the boom of the early 1980's in my estate agent days, before MIRAS was abolished. Prices were going up by the week and gazumping was rife. The buyer offered 10,000 more than the already high asking price. When I asked him why he wanted to do that, he explained that he had been gazumped 6 times. He reckoned it would take him 4 weeks to exchange and the house would increase in value 2500 per week, so this way he should get his house and not be gazumped at the last minute. That was a chap thinking ahead as to the eventual outcome rather than just the here and now. That's the spirit I intend to adopt to get us through this crisis.
It is difficult to predict what will happen in the market after lockdown. I believe the market will see a drop in prices particularly in London, but that a recovery will happen fairly rapidly. Social distancing is likely to be around for quite a while and large gatherings may not be allowed for some time yet. Should this be the case, we will operate safe standards to ensure we are meeting government guidelines such as timed viewing sessions and if we can go ahead with the auction in July maybe even timed spots for each lot to restrict numbers? More people will register to bid by phone, proxy or internet but as we saw on 3rd April, even when bidding remotely good prices can be achieved for the right lots. I believe there is always a way and we will find it.
In the meantime, we can do a few things to keep positive. We can speak to clients old and new. Zoom seems to be the new tool for business and I must say I like it. I find myself talking to people more rather than a text or email. The client conversations can quickly fall into talk about health, economy and their families but this is "old school" customer service, mirroring at time when we all had more time to get to know our customers better. We can make full use of the government schemes designed to support small businesses through this lockdown period. And the other thing we can do is be as supportive as we can – to loved ones and to strangers. Let's be honest, as a business owner it is difficult to work flat out at the moment and therefore I personally have signed up to carry out free food deliveries to key workers during this crisis, ensuring of course that I stay protected whilst doing so.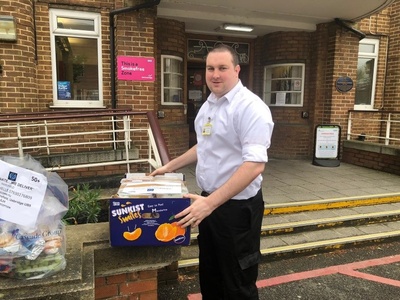 FREE LUNCH DELIVERY TO HAREFIELD HOSPITAL
We will have all learnt a great deal about ourselves and others whilst staying at home. Hopefully we will emerge a more caring and understanding society.
Keep safe.