How to find a good builder
02/09/2021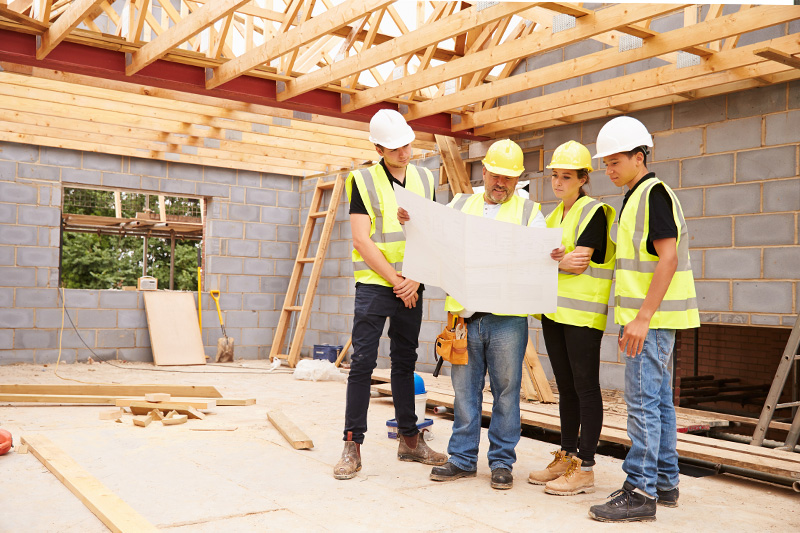 If you're buying at one of our auctions, the chances are you will be buying a probate property. They tend to have belonged to older people, so they often require updating. However, if that's not something you regularly do, finding a good builder to undertake the work is a challenge that often fills us with dread. It seems, every time you go to a dinner party or switch on the TV, all you ever hear are stories about cowboy builders, spiralling budgets and huge project overruns. So what can you do to avoid this happening to you?
The good news is that finding and hiring a good builder is not quite as difficult as you may think - you just need to follow a few simple but logical steps.
A recommendation from your friends and family is the ideal starting point, but if you don't know anyone in your immediate circle that has had work done recently, don't give up. You can spread the net a little wider by sending an email/WhatsApp/facebook message to all your trusted contacts, outlining exactly what you are looking for. If that fails to unearth a good builder, you can turn to one of the professional trade organisations, such as the Federation of Master Builders or the National Federation of Builders. Both organisations have a find a local builder service. The advantage with them is that their members have already been vetted and should work to certain standards. If anything does go wrong, they both have mediation services. You can also try one of the independent rating sites, such as www.checkatrade.com, www.mybuilder.com or www.ratedpeople.com.
It's not just about choosing a good builder, you also need to choose one that is right for your particular job. Scale is important and so are your own, individual requirements. If you are building a large extension, don't hire a one-man band and, equally, don't hire a large company to do a small job. It's best that they have the most relevant experience possible, so, for example, if you are having work done on a listed building, try and find a contractor that has experience in that area rather than someone who does a lot of new build work.
Whichever method you end up using to find your builder, you should put them through your own vetting process and you should always feel comfortable with them as you may need to work together for several months. Good references are essential, but don't just take them at face value. Try and visit a couple of their recent projects and, ideally, speak to the owner of at least one of them.
Ask them about the quality of the work carried out, the reliability of the contractor and whether there were any budgetary or financial issues with the project. Don't be embarrassed about it either. If you are spending tens of thousands of pounds on the project, think about how much worse you'd feel if it went wrong.
On the subject of things going wrong, any contractor doing anything more than a minor piece of work should be fully insured - ask to see copies of their insurance policies. And be wary of any professional qualifications or memberships on business cards and letterheads, as these can easily be faked, so check with the relevant organisations to see if they are genuine.
Having shortlisted your potential candidates, the next step in the process is to get them to produce a detailed quote and an estimate of the timetable for the job. In order to make this as accurate as possible, make sure the description you provide of the work required is as detailed as possible. Also, you should know there is a big difference between a quote and an estimate. An estimate, unlike a quote, is merely a rough guide or a guess. Sometimes an estimate is valid, for example if there are some unknown issues involved, such as whether existing foundations are suitable for a new extension, but mostly you should be very wary indeed of an open ended estimate.
Don't chose the contractor solely on the basis of the cheapest price; you will probably be spending a lot of money and you will have to live with the results for a number of years. Neither should you choose a builder on the basis of his immediate availability, as a good builder is normally in demand and may not be able to start work immediately.
Once you have decided on your builder, tie down all the loose ends of the job and write a formal contract with a start and completion date. You can add in an overrun penalty clause but be generous with its timings. If you don't know how to set up a contract, you can download a number of standard ones for free from the Federation of Master Builders' website (you will need to register).
Within the contract you should also agree payment stages. There are always unexpected extras involved in any sizeable building project, so you should allow for the budget to run over by around 20%. Never pay too much money up front and don't be tempted by a VAT free deal, it means there will be no paperwork to fall back on if it all goes wrong and such dodgy accounting standards may also be reflected in the building work. Finally, set up a regular meeting to check on progress and if you are not happy about anything, flag it up.