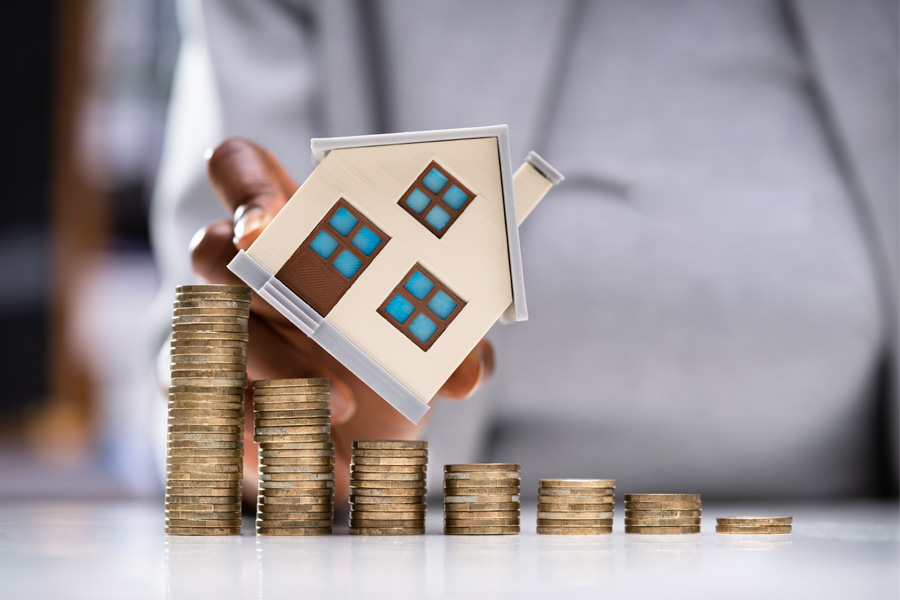 After fourteen consecutive rises, the base rate was finally put on hold last month. There is still an outside possibility of one last rise of 0.25%, but all eyes are now on how the housing market will react.
It is too early to see its impact on the various housing indices, as the Bank of England's announcement didn't come until the middle of last month. However, as inflation had already shown signs of slowing, confidence in the sector was increasing and there was a slight uptick in asking prices (+0.4%) from the previous month. That is, though, a little below the average for this time of year with prices typically rising by 0.6% as activity ramps up after the summer hiatus. Annually, prices fell from -1.9% to - 0.4%.
It will be some time before all the changes in the base rate fully feed through the system. Many of those with five-year fixed-rate mortgages haven't experienced any changes whatsoever in their mortgage costs, whereas first-time buyers and anyone coming to the end of their deals have been at the brunt end of it.
In the interim, there has been a bit of a stand-off, with sellers remaining reluctant to offer discounts and buyers waiting for mortgage rates to fall. It means sales volumes were down by 18% this July (latest available figures) when compared to pre-pandemic 2019. Sellers are now finally showing signs of adapting to the situation, with 36.3% of properties currently for sale having had a price reduction, at an average of £22,700 or 6.2%. And, according to another property listings portal, Zoopla, the average discount on the advertised sale price is currently 4.8%.
The price of smaller, more affordable homes is holding up better than it is for larger properties and, as a result, Tim Bannister Rightmove's Director of Property Science advises:
"Sellers in the middle and upper sectors need to be extra careful not to set their price expectations too high. Plenty of sales are being agreed for properties that are priced at the right level, and those that are selling are still taking five days less than at this time in 2019. We're also seeing the number of fall-throughs decline as market conditions and mortgage rates stabilise."
With the economic outlook improving, inflation easing and employment levels high, the pressure to reduce prices much further is limited, so activity may remain a little subdued until the base rate rather than prices start to come down. Most experts believe that may not happen for another 12 months, at which point, we will be in the midst of an election.
HOUSE PRICES AND STATISTICS
Almost all the indices show price falls were moderating in September but, on an annual basis, they continue to slip.
Nationwide: Sept: Avge. price £257,808. Monthly change 0.0%. Annual change -5.3%
Halifax: Aug. Avge. price £278,601. Monthly change -0.4%. Annual change -4.7%
Land Registry: July: Avge. price £289,824. Monthly change +0.5%. Annual change +0.6%
Zoopla: Aug: Avge. price £265,100. Annual change -0.5%
Rightmove: Sept: Avge. price £366,281. Monthly change +0.4%. Annual change -0.4% (asking prices on Rightmove)
With house prices modifying, we've got some fantastic value properties coming up in our next auction – come and have a look - Phillip Arnold Auctions.