Property prices in 2022
03/02/2022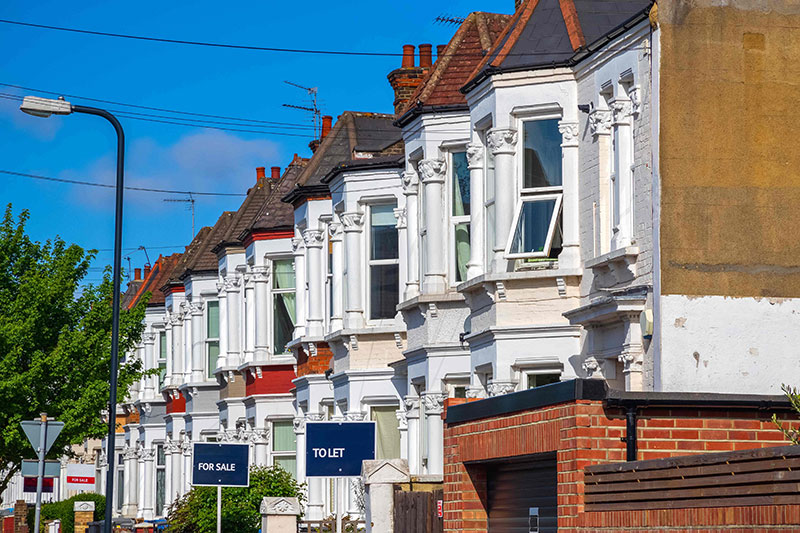 2021 began relatively quietly. The housing market had been seeing rising levels of demand but slowed over the festive period, with much speculation over what might happen when the stamp duty (SDLT) holiday came to an end on March 31st. And then, on 6th January, we went back into lockdown.
It was not all doom and gloom - the vaccination programme was providing real cause for optimism and then when Chancellor Rishi Sunak made it clear the SDLT holiday would be extended, the market surged forward once again.
By March, the lockdown was easing, and demand was once again outstripping supply, although the race for space meant demand was highest away from more urban areas. There were, though, signs of a recovery in demand in towns and cities.
The market continued to power through spring, with one of the biggest price rises in April for 17 years - up by 2.1% in just one month (Nationwide) – leading to speculation the market might be overheating.
As the end of the first stage of the SDLT holiday approached, there were no signs of a slowdown and London's recovery was gathering pace - moving into the top half of the monthly regional price rises for the first time since the onset of the pandemic.
By summer, most of the remaining lockdown restrictions had been lifted and many believed the pandemic was finally coming to an end. It was also becoming clear the economy was emerging from lockdown in far better shape than many were predicting. Large numbers had begun commuting again and the boomerang return to our cities was gaining real momentum. Even the holidays didn't slow things down.
In September, the final stage of the SDLT holiday ended with little discernible change in our buying behaviour. Supply levels had become so bad Rightmove announced you had to be a 'Power Buyer' (someone with either cash or a rock-solid offer) if you wanted to be sure of securing a new home.
Autumn came, October saw its biggest price rises since 2015 and Rightmove reported a rare full house (when all market sectors and regions hit record monthly price highs at the same time). There were, however, increasing concerns over inflation and many began predicting the base rate would soon rise.
Then, in December, Omicron hit, and the base rate went up for the first time since April 2008.
So, what does that all mean for 2022? After the events of the last couple of years, only the brave (or the foolish) would claim any degree of certainty. One fact is indisputable - despite its challenging conclusion, 2021 proved a bumper year for the property market. Nationwide's figures show, spurred on by the low cost of mortgages and the race for space, the average house price rose by an impressive 10.4%– the biggest annual rise since 2006. In addition, it is looking increasingly likely Omicron is much less potent than many feared, and case numbers are declining in many areas. On the flip side, the rising cost of living (and inflation) are likely to grow during the course of 2022 and that means more base rate rises. If you then add into the mix that the SDLT holiday brought forward many people's purchasing decisions, most experts believe the market will cool somewhat in 2022 with around 2% to 3% growth. It would be no bad thing, as double-digit rises are unsustainable over the longer term and are not good for the overall health of either the economy or the property market.
2020: the facts
Nationwide: Dec 20 to Dec 21: National £254,822 +10.4%. London £507,230 +4.2%
Halifax: Dec 20 to Dec 21: National £276,091 +5.2%.
Land registry: Oct 20 to Oct 21: National £268,349 +10.2%. London £516,285 +6.2%
Hometrack: Nov 20 to Nov 21: Top 20 cities £276,800 +5.2%. London £497,800 +2.8%
Rightmove: Dec 20 to Dec 21: National £340,167 +6.3%. London £637,220 +2.6% (asking prices).
The predictions
Please note – where possible, comparative figures for 2021 are from the companies' own indices.
Nationwide
Last year, amidst so much uncertainty, Nationwide declined to make a prediction but admit they were surprised prices rose by as much as 10.4%. This year, on the back of increasing inflationary pressure, they expect the market to cool and prices to go up somewhere between 0% and 2%.
Halifax
Halifax was some way off the mark last year, expecting house prices to fall between 2% and 5% in 2021. Their own figures, though, showed prices actually rose by 9.8%. Like Nationwide, they are expecting the market to cool in 2022 but haven't provided a precise figure.
Hometrack
Hometrack were another caught out by the strength of the market in 2021. They were expecting growth of around 1% for their 20 cities index, against a final figure of 5.2%. This year they are more optimistic, forecasting growth to hit around 3% with supplies continuing to be restricted.
Rightmove
Rightmove were a little closer than most in their prediction of 4% growth in 2021 - their December figures showed annual growth had dropped slightly to 6.3%. This year they expect buyer demand and low levels of available property to push up prices by 5% nationally and by 3% in the capital
RICS (Royal Institution of Chartered Surveyors)
RICS is another who didn't give any concrete figures last year but said prices would hit similar levels to 2020 (6%-7%), which wasn't so far off the mark. For 2022, they are forecasting the market to cool a little and prices to rise between 3% and 5%
Rightmove
Rightmove tend to be quite upbeat in their predictions but were slightly below their final figure of 6.4% with their prediction of 5%. This year, they have again gone for 5%.
Zoopla
Zoopla were predicting prices to rise by just 1% in 2021. This year, they expect to see growth of 3%.
A selection of other predictions
CEBR bucked the trend in 2021 with their highly optimistic forecast of a 14% rise - quite some way above Nationwide's 10.4%. This year they expect the market to slow to 2%.
EY ITEM Club were some of the most pessimistic about 2021, expecting a fall of 5%. This year, like many others, they are predicting growth to slow considerably but to remain just about in positive territory.
Capital Economics also predicted a 5% fall in 2021 but have gone for one of the higher predictions of around 5% by Q4, 2022.
If you are one of the many thinking of buying a new property in 2022, why not take a look at the fantastic homes we have coming up in our next auction.