Brendons Auctioneers rebrand to 'Phillip Arnold Auctions' as growth continues to flourish
01/09/2015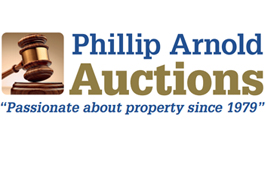 After recently reporting a move to new, larger offices and new staff appointments, Brendons Auctioneers continue their evolution with a new brand name: Phillip Arnold Auctions.
The rebrand and the new strapline 'Passionate About Property', reflect the company as a personal and approachable alternative for fast property sales and purchases.
Phillip Arnold Auctions' strategy for growth is to build long term relationships with landlords, surveyors, consultants and legal teams that continually improve the service we offer to our clients. It's a logical step in our development as an independent London-based property auction house and the new brand name will help us ensure we get these messages across to our clients and business partners.
Part of our decision to re-brand to Phillip Arnold Auctions was to ensure that we are no longer seen as being tied to any particular estate agency. We believe this will now provide us with greater opportunities to form closer working relationships with local and national agents, enabling them to offer an additional service to their clients without being concerned about competition regarding any onward business.
The change also signifies our commitment to the new team who will help us create an even stronger presence in the market. It's vitally important we let people know what we stand for as we have a unique offering for landlords and commercial asset owners for when they need to sell or acquire property.
Managing Director Phil Arnold, has over 35 years blue chip experience in the property sector, with London being a particular focus of his expertise. Recently he was also appointed President of the National Association of Auctioneers and Valuers (NAVA) and plays an active role in the organisation.
Phil commented: "These are exciting times for the property sector and Phillip Arnold Auctions are well placed to meet the demands of a growing and diversifying market. With significant new property planning changes proposed in the recent budget, for faster and easier extensions for city properties and the rapid granting of permissions for brown field developments, our stronger brand as the London auction house that can deliver purchases and disposals for property professionals in a fast and efficient way is right for us at this time."
"With a growing team able to service even more clients we look forward with confidence to the next phase of our expansion. Our new brand name and proposition will help us achieve this."
Next auction: 27th October at the Double Tree Hilton, Ealing, London.